Everything You Need To Know About CDW & SLI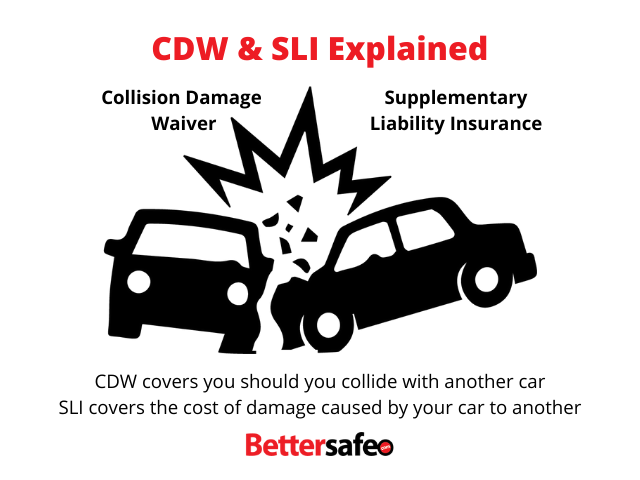 When you hire a car anywhere in the world, most countries insist that you also purchase insurance cover. The types of insurance that are obligatory are either limited insurance or no third-party liability insurance.
This standard type of insurance covers you for minor repairs that may be required to the car if you are involved in an accident. It may also cover the cost of a car if the vehicle is written-off.
However, drivers also have the option to buy additional insurance which provides you with financial protection the standard cover sold with hire cars does not offer.
Additional types of car hire insurance are:
Collision Damage Waiver (CDW)
Supplemental Liability Insurance (SLI)
Whilst CDW and SLI are not obligatory if you have an accident in the hire car, it paying for damages can be extremely expensive. This additional insurance coverage could save you a significant amount of money.
Rental companies will, of course, attempt to sell you CDW and SLI as part of the package. They will probably tell you they have good deals that are the best on the market.
Rest assured, they are not likely to be the best on the market. Car hire firms make a tidy profit from reselling CDW and SLI. You will be able to find this type of insurance cover for a better price elsewhere - and probably with better cover.
What Is Collision Damage Waiver (CDW)?
A collision damage waiver is a contractual agreement between a vehicle rental company and its customer to waive the cost of extensive damage caused to a hire car.
CDW's typically covers drivers up to $100,000 although it will vary from one policy to the next.
Strictly speaking, the CDW is not formally an insurance policy, but to all intents and purposes, provides financial protection in the event of an accident.
CDW typically covers the cost of damage to the main body and some mechanical parts. It may not cover all parts of the vehicle whereby you will still be responsible to pay the full extent of any damage caused to the car.
The policy we offer at Bettersafe goes one step further and offers cover for the insurance excess - the amount you are responsible to pay towards repair costs if the rental vehicle suffers any damage.
Other Names For CDW Overseas
If you plan to hire a car when travelling overseas, you should be aware that collision damage waiver is given a variety of names. Take time to learn some insurance terminology wherever you are travelling otherwise you may be sold insurance policies you don't need.
In the United States and Canada, for example, CDW is called Loss Damage Waiver (LDW). In the States, you will also find Super Collision Damage Waiver (SCDW) which is the equivalent to car hire excess insurance we have in Britain.
It's also worth noting that CDW in some parts of the world may be limited to damage caused in accidents only when the car is moving - quite literally collisions. It may not cover theft of the vehicle or damage caused by somebody pranging the vehicle whilst it's parked.
In North America, the excess is more commonly described as a "deductible".
What Is Supplementary Liability Insurance (SLI)?
Supplemental liability insurance is a useful type of insurance cover for drivers everywhere. These types of insurance policies cover you for claims made by third parties for injury and/or damage to their property.
SLI policies pay the difference between the minimum financial responsibility (excess) due to be paid by the renter under the terms of a car rental agreement and the damages claimed by a third party.
Excess payments in car hire agreements are usually around £500-1000 but can be as high as £2000. This is the fee you are obligated to pay as an upfront cost for any damage to the vehicle (in the case of CDW) or a claim issued by a third party.
An SLI covers you for repairs to property belonging to a third party together with medical bills. Given medical bills can run into thousands, if not tens of thousands of pounds, SLI gives you peace of mind and financial cover in the unfortunate event that you are involved in a serious accident.
However, it's worth noting that insurance companies put a cap on SLI payouts - and some are as low as $3000 which could fall a long way short of medical expenses. In these circumstances, you have left to foot the bill from your own pocket.
The SLI insurance policy we offer at Bettersafe covers you for up to $1,000,000. Don't risk shouldering hefty financial burdens, and contact a member of our friendly team today.
Bettersafe Collision Damage Waiver is also combined with Supplemental Liability Insurance (SLI) which covers third party injury or damage to third party property.
What Is CDW Excess Protection?
As with many other forms of general insurance, a CDW typically carries an excess. In other words, the waiver does not cover the whole of the cost of any loss or damage since the first part of that expense remains entirely the responsibility of the individual renting the car.
The excess (known as the deductible in the USA) is the first part of any qualifying claim that you will be liable for. With hire cars, excess amounts up to £2,000 are not uncommon.
With that in mind, paying a minimal fee for excess insurance can save you a significant amount of money. CDW excess protection covers your whole costs so even if you are penalized by a car hire firm - legitimately or otherwise - you will not be left out of pocket.
Do You Need CDW Excess Insurance?
Whilst CDW or CDW excess insurance is not obligatory, it is a good idea. If nothing else, it gives you peace of mind. It is important to remember this basic rule when dealing with car rental agents who insist that you have to buy their cover.
You have the choice either to:
Go without CDW excess insurance, and hope there is no loss or damage to the vehicle you've hired. With this option, you must be prepared to pay the excess stated in the contract in the event of an accident.
Buy CDW insurance premiums for a nominal price and travel with peace of mind in the knowledge that you are covered in a worst-case scenario.
Do You Have To Buy CDW From Car Hire Companies?
Excess insurance sold by car rental agencies is expensive and may not offer the comprehensive cover you expect. (Check out our comparison chart at the foot of this page). The sale of various types of insurance is a very profitable sideline for them so they will, of course, try and push the insurance cover on to you.
The good news is that there is no obligation for you to purchase CDW from a car hire firm. If you do want the peace of mind a CDW gives, the best policy is to shop around and find a deal from an independent insurance provider before you travel.
CDW and SLI can be arranged before you pick up your hire car anywhere in the world - simply by contacting us here at Bettersafe. We are an entirely independent, UK-based specialists that provide worldwide CDW excess insurance cover whenever you hire a car.
Our standard CDW excess insurance policies are valid for up to 60 days. We also offer annual cover that is valid the whole year round and cover you for as many hire periods (each up to 60 days) as you need.
Where Can You Buy CDW?
You can purchase CDW from almost any independent insurance specialist. At Bettersafe, for instance, we offer comprehensive cover for CDW and SLI and excess insurance.
UK-based and Lloyds-backed specialists – such as those we offer at Bettersafe – offer policies that bundle together practically any of the likely car hire damage waiver insurance policies you may need. For example, you can also choose a package specifically designed for use in the Americas.
Tailored policies specifically for use in the Americas offer:
CDW of up to $100,000 over and above any waiver already arranged by the rental company.
SLI of up to $1 million for third party claims arising from their personal injury or damage to their property.
Excess insurance cover that provides reimbursement of any properly imposed excess, whatever the damage to the rental car.
The cover may be arranged easily online, with only a single premium to pay for any period of hire up to 60 consecutive days.
A single premium may also be paid for annual cover giving you the reassurance that your hire car insurance is in place whenever you travel - and at an affordable cost that is extremely competitive.
What Does CDW Excess Cover You For?
You should note that many excess insurance policies offered by car rental companies typically have exclusions, for example, damage:

To the windows or tires
To the roof and undercarriage
Caused by misfuelling
To a baby seat or sat nav, etc.
At Bettersafe, all our car hire excess insurance policies to give you financial protection that, in the event of a qualifying claim, will reduce your excess to zero.
This typically includes all the events - and others - mentioned above that other rental car policies do not cover.
How Much Does CDW & SLI Cost?
The charges of CDW can vary as it will depend on the country you are hiring from. In some countries, there is an additional cost for this. If CDW insurance is not included, Bettersafe can offer both CDW and SLI when you buy a worldwide policy including CDW and SLI single or annual policy.
For example, if you rent a car in a country where CDW and SLI are not included, such as the USA, through a UK-based website or company, the CDW and SLI will usually be included as part of the hire cost, as the company will assume it is required for a traveller from Europe.
Buying daily car hire excess insurance can work out costly, particularly if you buy it at the rental desk. Our own research shows that this cover can cost up to 82% of the car hire charge.
Buying standalone daily cover – or even annual cover (ideal for people who have several trips a year) – from an independent provider can save money.
As an example and at the time of writing:

Our daily car hire excess cover for the UK and Europe costs £2.49
The same cover, bought from a leading car hire rental company, costs £23.06 per day
So, if you are looking for car hire damage waiver insurance, remember the following points:
Shop around and compare prices, the amount of excess you have to pay

Check what the CDW cover entails and look out for exclusions – typically buying a standalone cover from an independent provider is more advantageous for cost and cover.
Buy before you fly. Purchasing CDW or SLI cover at the car rental desk will mean you have to buy the hire company's own, typically costlier, deal.
For more information about the Collision Damage Waiver and Supplementary Liability Insurance policies, we offer at Bettersafe, contact us today and speak with one of our friendly advisers.